The North Attleboro High School Alumni Association is a non-profit, volunteer group of alumni, friends, faculty, and administrators of North Attleboro High School.

The members seek to build and strengthen the community of NAHS graduates and to explore opportunities to enhance the educational experience of current and future NAHS students.

Membership is open to all graduates, parents, and friends of North Attleboro High School.

Want to learn more? Follow these links:

---

CAPTAIN KYLE R. VAN DE GIESEN MEMORIAL AWARD NOMINATION FORM

Click here** to open the The Captain Kyle R. Van De Giesen Memorial Award Nomination Form


---

NAHS Alumni Association Makes Another Donation

Click here to read more about the recent Alumni Association donation of six Mac Mini computers to the High School Art Department.


---

FOUND 2010 CLASS RING

The RI Airport Police, at TF Green State Airport, has advised that they received a silver-toned, lady's, 2010 NAHS class ring. The ring was cast with the name "CARLY" on the outside and a quote, "Put your mind to it. Go for it." was engraved on the inside.

The owner can contact Sgt. Hall, RI Airport police, at either 401-691-2247, or cehall@pvdairport.com


---
TECHNOLOGY DONATION - December 31, 2015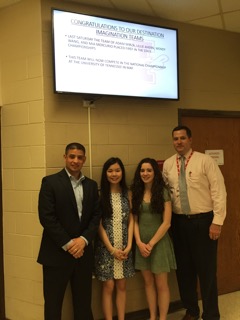 The NAHS Alumni Association is proud to announce a $6,200 donation for two 55" SHARP High Definition LCD televisions used for digital signage inside the High School. The televisions have a built in USB media player which supports a PC free playback of the displayed content. The televisions are mounted in the school cafeteria as well as in the Main Lobby and the system is setup to display slideshows of promotional or information content.


---

CREATE OPPORTUNITY: GIVE TO THE NORTH ATTLEBORO ALUMNI ASSOCIATION TODAY

The past five years have been a time of unprecedented growth at North Attleboro High School. As alumni, we recognize that an education from North Attleboro High School is a gateway to opportunity. North students continue to benefit from an exceptional educational experience that is both career shaping and life changing.

There is no better way to continue North Attleboro's tradition of creating opportunity than by making a gift to the North Attleboro High School Alumni Association. The Association provides immediate support for one of the school's most important priorities — technology - because we realize that technology is no longer a luxury, but a necessity. We are happy to announce that the high school is now 100% WiFi, and the School Department is introducing the "Bring Your Own Device" initiative this year in order to accommodate the rapidly evolving nature of education; however, not all of our students have the technology to enable them to take advantage of this new reality.

• Our goal is for every student to have access to a laptop so they can take full advantage of its wireless capability.
• The current reality at NAHS is that students only have access to a limited number of school owned portable devices during the times that they are in class. The "Bring Your Own Device" initiative aims to integrate portable devices into actual classroom curriculum, enhancing lessons for both students and teachers.

A quality education like the one our students deserve, and that North Attleboro Teachers are dedicated to deliver, requires considerable resources. That's why your generosity to North Attleboro High School is essential. The amount you give does not matter as much as giving back to your community, and brightening the future for countless students to come. Alumni support is a key indicator of a strong school system and sends a positive message to the students, showing them that they have a North Attleboro family even after graduation.

Please join us in improving the education for thousands of present and future students through your generosity.

Click here to download a donation form. All completed forms may be sent to: North Attleboro High School Alumni Association / P.O. Box 1051, North Attleboro, MA 02761.

Sincerely yours,

Thomas Pirri '02 – President
Amanda Dean '05 – Fundraising Chairwoman



---
NAHS COMPUTER DONATION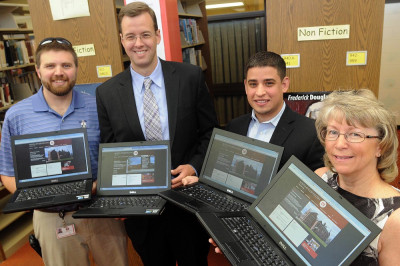 The NAHS Alumni Association recently made a donation to the High School allowing them to purchase software for twelve laptops.

Click here to read more.


---

TECHNOLOGY DONATION

The NAHS Alumni Association recently made another donation of $5,000 to assist the High School in adding wireless capabilities to the media center. Click here to read more..

To date, the Alumni Association has donated over $10,000 to the High School.


---

NAHS ALUMNI ASSOCIATION ESTABLISHES NEW CLASS AGENTS PROGRAM

The newest initiative from the NAHS Alumni Association allows graduates to take a more active role in the group by volunteering to serve as a Class Agent.

As the association grows and expands it's programs, it is aiming to establish more direct links and points of contact with at least one member of each of the school's graduating classes.

In addition to serving as the liaison between the Alumni Association and their fellow classmates, Class agents will help generate news for the group's seasonal e-newsletters, suggest potential nominees for our annual Alumni Awards program, and maybe help identify potential donors who can help us meet our annual fundraising goals.

Anyone interested in serving as a Class Agent is invited to e-mail NAHS Alumni Association Secretary Jack Johnson (Class of '80) at jjohnson@naschools.net


---

ON-LINE DONATIONS

The NAHS Alumni Association now has the ability to accept on-line donations. Click here to find out how.


---

ATTENTION ALUMNI

You have likely received a phonecall or postcard from Harris Publications asking you to provide updated contact information. North Attleboro High School Principal, Bob Gay, has contracted with Harris Publications in an effort to keep the High School records updated. This organization is legitimate. The NAHS Alumni Association does benefit by receiving any updates gathered by Harris Publications which we will use to update our "Find a Classmate" records. If you have any issues with your interaction with Harris Publication, please contact Principal Gay directly.


---

IMPORTANT Privacy Information: E-mail communication from the North Attleboro High School Alumni Association will ALWAYS include links to www.nahsalumni.org. There are many "for-profit" web-based firms that may attempt to create the impression they are affiliated with North Attleboro High School Alumni Association. We are not. They may send you e-mails with links to their sites. Visiting their sites and providing them contact information could compromise your privacy.


---

NAHS ALUMNI ASSOCIATION RECEIVES GENEROUS DONATION

January 2, 2007

The North Attleboro High School Alumni Association is pleased to announce the receipt of a generous donation from the NAHS Class of 1956. In recognition of their 50th anniversary, the Reunion Committee for the Class of 1956 and President Dave Redding have donated $1,000 to the Alumni Association "in the memory of our deceased class members": Fred Bastow, Larry D'Arpino, Victor Dion, Annette Frazer, Dorinne Guimond, Bruce Nimmo, Carol Stanhope, Carol Upham and Carol Woodbury.

The Class of 1956 has made similar donations in the past and invites other NAHS classes to do the same.


---

Effective as of June 16, 2005, we are a 501C3 Tax Exempt Organization and can furnish a Tax Exempt Number for your donation.


** NOTE: Adobe Acrobat Reader is required to view this document.
If you do not have Adobe Acrobat Reader, you can download it by going to Adobe.com.